Mark Jenkinson & Son
8 Norfolk Row, Sheffield, South Yorkshire, S1 2PA
Auctioneer Details
Mark Jenkinson & Son are auctioneers of residential and commercial property and over the last 12 months they have held 8 auctions, raising £27,369,760
Next Auction
The next auction is planned to be held on Tuesday, 03 September 2019 at 14:00
Last auction results
Venue

Platinum Suite, Bramall Lane, Sheffield, S2 4QZ

Auction Date

Wednesday, 10 July 2019

Lots offered

53

Lots sold

44

Percent sold

84%

Total raised

£5,387,250
Through our continued support and coverage to over 430 active auctioneers across the UK, we have received many encouraging testimonials that help re-affirm our position as the leading source of property auction information.
No other website has the approval of every auction house in the UK and because of both the detailed and impartial information that we provide we are the only site that is used by the auctioneers themselves.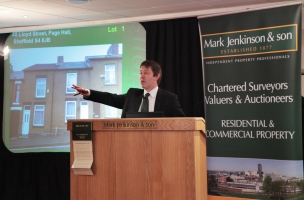 Testimonial
"The EIG website gives me the upper hand when handling new auction enquiries. In less than a minute into a telephone conversation I can have logged on and found out a wealth of vital information such as how long the client has owned the property, what they paid for it or whether they have already tried to sell it with another auctioneer. In addition I can quote comparable sales and create this wonderful illusion that I have all this data in my head - which of course I don't!"
Adrian Little
Auctioneer
Mark Jenkinson & Son
If you are looking to buy or sell a property via auction, an auctioneer will be able to help you through their experience with valuation and marketing as well as the selling process in the room or via online auction. Auctioneers tend to have large client databases of auction buyers and so can facilitate a sale quickly. An auction can be both an exciting and a daunting process if you have not been to one before so do take the time to look at our guide to buying at auction to familiarise yourself with the process or you can watch one of the many live video streams that generally take place on a daily basis.