Industry News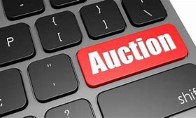 Further reading
EIG Newsletter April 2018 - Essential Auction News
Business Matters: Online property auctions… what are you missing out on?
Insidermedia.com
The technology to deliver property auctions online has been available for some years now
As an industry, the willingness to promote the benefits of them - and then host one, has been very slow. James Ashworth of Landwood Property Auctions looks into the reasons why this might be.
There seems to be an element of fear that has stopped other agents adopting this process and at times, client perceptions are deeply rooted in the traditional methods, so is fear of the unknown playing a part here? What is this fear built on?
Selling a property at auction is a great way to maximise the price achieved thanks to the competitive bidding it generates and traditionally, that's been delivered by a physical auction event.
There's no doubt a busy auction room with multiple lots being offered on a single day can be very successful. Certainly, a buzz can be generated, and it helps for clients to see a tangible, physical event to justify the fees and costs they've incurred.
In a way it's understandable that an auction company would be wary about taking properties out of a room auction and putting them online – if they do that, aren't they damaging what they hold so dear and they perceive to be so valuable to their clients?
But is this view point justified? My view is… not really.
The reality is that the auction itself is a just a very small part of success. There is a lot more in the lead up that influences the sales result to a far greater degree. The concept of how an auction works couldn't really be simpler, so what is it that makes the difference?
Recipe for success and the traditional room auction
The right advice from the start is the key to achieving success. Get that wrong and it's very hard to recover.
Once we've agreed an appropriate guide price – and likely reserves – with the seller, what's next?
From experience, I know auction properties always tend to generate good levels of enquiries, but often parties who are genuinely interested don't turn up to bid at a traditional auction. Why is that? It's a combination of factors.
Traditional room auctions very often impose strict and relatively short timescales as the auctioneer must book a venue, set a closing date and print catalogues.
The industry can rely a bit too much on the out-dated idea of caveat emptor – the principle that the buyer alone is responsible for checking the quality of goods before a purchase is made – perhaps as an unintended consequence of business models built on churning out sometimes hundreds of properties in a single day.
Some people simply get nervous about attending an auction. To the inexperienced it can be daunting, they don't like the fact they can't be sure who they are bidding against, plus busy lives mean they can't be in two places at once.

Once an in-room auction is underway and going well, it can of course get great results, but see what happens when a few properties in a row don't sell. The whole atmosphere can flatten, there's a palpable drop in the bidders' mood and people who minutes earlier were keen to bid can change their mind.
Of course, I'm not down playing the skill of a good auctioneer, but would you really want to rely on them having a good day, or an "easy" room to work with if you had a property to sell?
Why online property auctions are the future
So, is there a better way? Well I'd start off by saying that I think we'll see traditional and online auctions happily co-existing for some time – we would always pick the most appropriate method of delivery for our clients.
However, I do believe that those with vision will press on to be among the early adopters and their clients will benefit.
My belief is that online auctions will give both sellers and buyers all the traditional positives that auctions have always offered, but with many additional benefits.
Online auction benefits to property sellers and buyers
Sellers will have certainty as to who is registered to bid, the process can be de-risked by qualifying bidders, if they wish, and they can also benefit from a bespoke sales strategy that complements the best of both private treaty and auction approaches to selling a property.
Going online means their property can truly appeal to a global audience and effectively market to, and allow bidders from, any location.
Sellers can also set their own auction start and finish dates and not be constrained by the set closing and sale dates a traditional in-room auction has. Once bidding starts, they can see exactly how many bidders there are and the progress of bidding. Buyers benefit from being able to bid from anywhere in the world thanks to the web-based platform, and they will also know exactly what they need to pay to secure the property.
Add to that the transparency as to what other bidders are doing and whether the reserve has been met, and you've got the ultimate property buying platform that's perfectly accessible from your own home or office.
Put simply, online auctions are a lot easier and in a world where people shop, bank and book holidays online, we're finding bidders are totally onboard with the process.
For ourselves as Auctioneers, it brings the benefits of being able to give clients far more informed advice. By using a more flexible approach to marketing lead times, we can work far more closely with potential buyers to make sure they feel confident to bid and we can interact with these bidders in real time as the auction is underway.
The challenge we're facing at Landwood Property Auctions is to convince sellers of the benefits when it comes to online property auctions.
We've got a 100% sales rate for online auction lots to date and with Allsops having their first online commercial sale at the end of April and LSH selling a lot valued at over £5M online recently, I think it's fair to say that online sales should become more and more popular.
James Ashworth
Director, Landwood Property Auctions